Retail Hardwood Lumber
It is extremely difficult for the growing number of smaller woodworkers, builders, contractors, home hobbyists, etc. who use hardwoods, to find exactly what they are looking for, especially in smaller quantities ( 250' bd. Ft. or less ). In order to satisfy this need we specially designed and built a 60'x200' self service retail warehouse where customers can hand select the various hardwoods they need from a series of over 340 individual lumber bins filled with what we feel is the highest quality hardwood lumber available anywhere.
Most all of the Hardwood lumber in our retail warehouse is available in thicknesses of 4/4 through 8/4, and in certain species up to 16/4. Our customers can purchase the stock either rough, or milled to a smooth cabinet finish with one straight edge. We carry most of the more popular Northern and Appalachian hardwood species as well as Eastern White Pine, Mahogany and selected exotics. Here is a listing of the various Hardwoods etc. we have available at the present time:
Click below to view our Price Sheets:
Domestic and Imported Hardwoods
Exotic Hardwoods
Marblewood
Monkeywood
Shedua
Sucupira
Note: If for some reason you do not find what you are looking for in our bin area, please be sure to ask if the item in question is available in one of our lumber warehouses.
Specialty Hardwoods
In addition to our standard selection of some of the "more common" hardwoods, we also carry many of the harder to find "specialty" hardwood items for more specialized uses including: carvers basswood, instrument woods, curly maple, birch & cherry, quartered and rift sawn hardwoods, S4S dimensional stock and much, much more. It is important to mention that most of our domestic hardwoods are also available in 9" & wider widths, both rough and surfaced.
Short Bins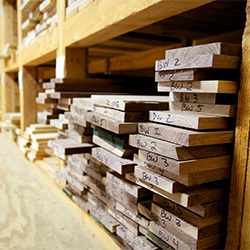 A great way to save in Highland Hardwoods Retail Department is to take advantage of our short lumber pricing. Shorts range in length from 1′-5′ long and are 25% off the regular price list. There is always a good mix of species and thicknesses that changes day to day. Even though there is a good variety, we do not have shorts for everything that we have in our regular lumber bins. The reason for this is that the way we get lumber for our short bins is to remanufacture our upper grade stock, cutting out knots, splits and other defects. In a lot of the stock that gets marked up for our regular bins, the stock never yields any shorts due to lack of defects.
Our short bin area is located on the second level, over our plywood racks, and is stocked with 4/4 rough and surfaced hardwood lumber. On the lower level by the plywood area we have racks for all lumber 5/4 and thicker shorts. There are also some bins in the stairway area where we stock with exotic shorts.
Cutting Of Lumber
On request, we will offer to cut lumber from our regular bins, if our short bins do not have what you need…under the following conditions:
In order to cut footage off a long length of lumber, the remainder of the piece must be at least a full 6' in length.
The short piece will be sold at the regular lumber pricing (not shorts pricing)
 Resources and Related Links: