NOW OFFERING Messmer's wood deck stain

Messmer's UV Plus for Hardwood Decks is a premium natural wood finish and deck stain for dense exotic hardwoods like Ipe, Mahogany, Brazilian Redwood, Massaranduba, Meranti, Pau Lupe, Tigerwood and Teak.
Excellent resistance to UV degradation
Available in 2 colors (We carry Natural in stock)
Mildew resistant coating
Specially formulated for Ipe and other hardwoods
Covers 200 – 300 square feet per gallon
Messmer's Wood and Deck Cleaner and Brightener (Part A and B) powder concentrates are specially formulated to clean and brighten exterior wood decks, fences, log homes, and other exterior wood projects.
Cleans and brightens exterior wood, removes gray and dirt
Use before staining wood
Excellent for deck maintenance
Biodegradable, safe and easy to use
Maximum strength concentrated powders
Cleans or Brightens up to 500 square feet per jar
Anchor Seal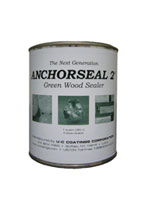 Made from renewable, natural ingredients and less petroleum-based raw material, AS2® is a high-performance, economical choice for customers. AS2® hybrid wax coating seals the ends of logs and lumber to protect against end checking and costly degrade.
Click below to view our Price Sheet: